Historic Renovation of a Special Property
The Carroll Cabin is a log house built with hand-hewn timbers during the late eighteenth-century. Based on a variety of research methodologies and data threads, including architectural survey and dendrochronology, the house may date as early as 1775, was occupied for approximately 205 years, and has now been standing for approximately 247 years. It is one of the oldest standing log buildings in western Pennsylvania. The Forbes State Forest stabilized the structure several years ago to prevent collapse of the building and to reduce rain damage. The property has not been in use for several decades.
In 2021, PPFF funded a professional report to analyze attitudes towards rehabilitation and to define potential future use of this historic structure. A survey was created and shared with potential stakeholders. Of the eleven entities that completed the survey, all agreed that the building needed to be rehabilitated, protecting for the public a unique historic structure that tells the story of Pennsylvania's past.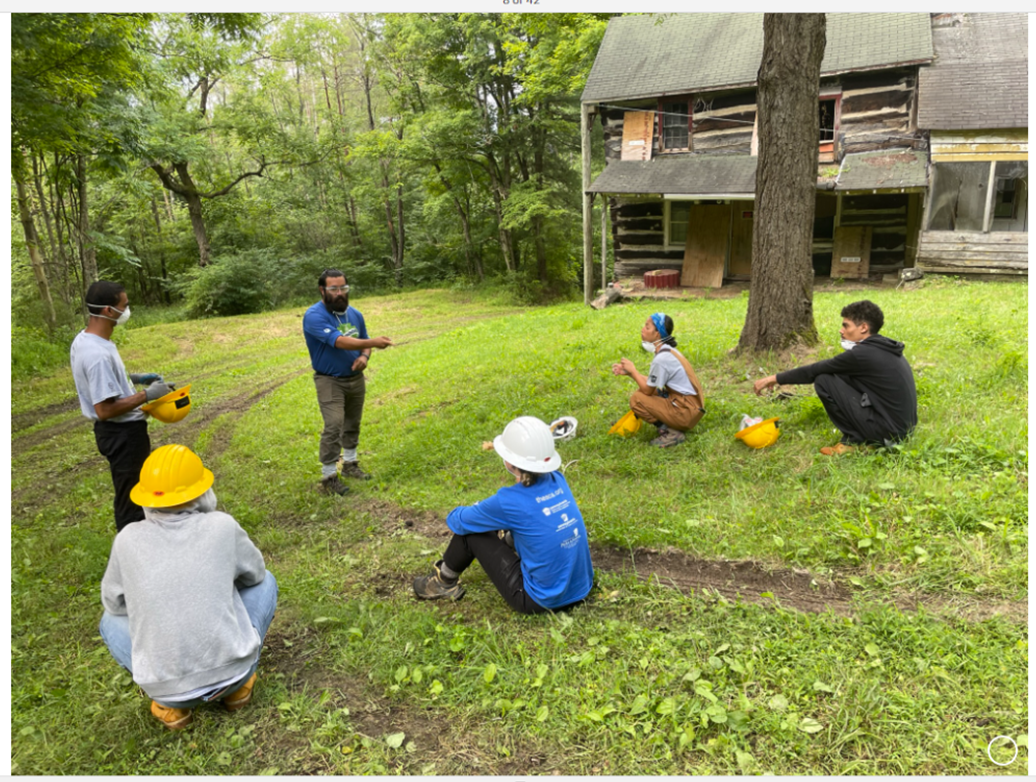 In June of 2022, PPFF received a grant of $50,000 from the Richard King Mellon Foundation to hire an architectural engineer who specializes in historic structures to develop a rehabilitation plan for the structure. This plan will inform planning and be the basis for a timeline for rehabilitation.
While the plan is being developed, members of the Pennsylvania Outdoor Corps (shown here) removed all modern debris, trash, and furnishings from the cabin. So as not to adversely impact any items of archeological significance around the exterior of the house, an archaeological study will be completed surrounding the structure. To prepare for this study, hazardous trees will be removed, and ground penetrating radar will be implemented to assess any hazards and define study parameters.
For the archeological assessment, the Cultural Resources Crew will deploy. These are 18–24-year-old members who work for ten-months' time developing career skills in cultural resources protection. Deploying the Cultural Resources Corps supports these budding professionals develop their skills.
The long-term goal of this project is to rehabilitate the property to provide a rustic overnight opportunity for visitors, opportunities for interpretation of 18th and 19th century living, and to compliment the stories told by the National Road Heritage Corridor, the Laurel Highlands Conservation Landscape, and the national historic sites, Fort Necessity and Friendship Hill. It complements work that the Pennsylvania Parks and Forests Foundation has completed at the Wharton Iron Furnace (restoration and interpretation) and in Civilian Conservation Corps structures in the Forbes State Forest and Laurel Hill and Kooser state parks.
Funds raised for this project will be used to advance the rehabilitation and interpretation of this unique project, a potential model for other locations.